Google Apps And Their Benefits For Your Business
The use of Google apps (now referred to as G Suite) is present in nearly everyone's day-to-day life, whether or not you are a business owner or work for a business. Having a Google email (or "Gmail") account automatically unlocks a suite of apps for the user, allowing access to powerful tools such as Google Drive, Google Docs (and Sheets, Slides, and Forms), Google Calendar, Google Hangouts, and many more. This article will list some tools in the commonly-used Google apps suite and explain how using them can benefit your business.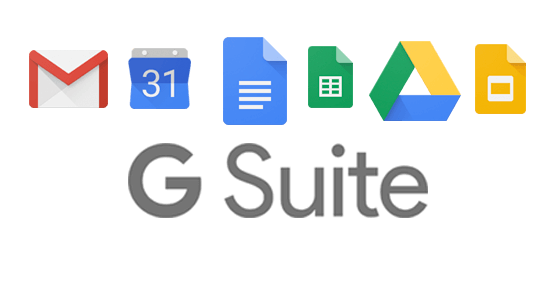 Gmail
Perhaps the most well-known tool, Gmail is the first of the Google apps made that is now a part of G Suite (it was released 14 years ago in 2004). Gmail offers a large amount of storage space, sync compatibility with other email providers, personalized domain names (emails with @yourcompany.com at the end of them), and expansive search capabilities. Gmail makes it easy for your organization or business to have a unified email system that also looks professional to customers and/or clients. This email client for Google apps is also well-designed, making it easy to navigate and aesthetically pleasing.
Drive
Google Drive is a storage system in Google apps, offering users 30 free gigabytes to store multiple different kinds of files. Google Drive makes it quick and convenient to share files with others, able to create an easily-sharable link for any file in your drive. Google Drive also makes it easy to sync all your files across devices, meaning you are able to access all of your files on the Drive anywhere you are on any device as long as you have an internet connection. With an organization or business Google Drive, coworkers can share files with each other without long email chains or physical USB drives. Additionally, Google Drive for business can ensure that a business's files are only shared between members of that business, keeping files safe and secure.
Docs, Sheets, Slides, and Forms
These four tools in the Google apps suite all have to do with digital media/content creation in some form. Docs is a word processing program, Sheets is a spreadsheet program, Slides is a presentation program, and Forms is a survey program. All files made using these programs are automatically saved on Google Drive after every edit made, minimizing the possibility of losing important data due to not saving recently enough. Multiple people can work on one file at the same time, making collaborating on projects and working together much more convenient. Created files are also easily downloadable into multiple formats, such as documents from Docs and slide presentations from Slides.
Calendar
Calendar makes it easy to organize meetings or company events, automatically finding available times and locations for meetings with other members of your organization. Google Calendar can also be synced with calendars from other email apps, gathering all your events into just one calendar. The Calendar can also be integrated with Google Sites, creating a calendar on your website for visitors to view events your organization publishes on it. Google Calendar is also integrated with Google Hangouts for phone and virtual video chat meetings, truly making it a centralized location for all your business's meetings and events. Google Calendar is also accessible on all devices and can be fully integrated with your device's native calendar (for example, all your Google Calendar events can appear on the pre-installed calendar app on your Samsung Galaxy S7).
Hangouts
Google Hangouts supports text, voice, and video chats across organizations, making it convenient to communicate with coworkers without the formalities of emailing. Some features include video and voice chats that can have up to 25 people, easy screen-sharing in video chats, live streams that can be hosted by businesses that are then automatically uploaded to their YouTube channel, and integration with Google Calendar so scheduling a meeting via Hangout is as easy as a few clicks of a button.
NXTFactor uses Google apps and other tools to stay on the cutting-edge of business technology to better help our clients. If you are interested in working with a professional, results-oriented team for your business's digital marketing needs, check out our services on our website.